"Share the feeling" è la frase con cui Cora Happywear, racconta la sua collezione di abbigliamento per bambini e mamme ispirata alla filosofia del bello e sostenibile. Quale frase migliore per riassumere la consistenza fantastica dei capi che propone: in cotone organico, maglina di bamboo e di eucalipto e lana rigenerata, tutti tessuti prodotti in modo altamente sostenibile per il pianeta e con un risvolto molto salutare per la pelle di chi li indossa.
Cora Happywear è il terzo figlio di Elisabeth Tocca, una mamma dell'Alto Adige che, dopo i figli, lascia un lavoro in azienda per dare vita alla sua idea imprenditoriale, dettata dalla nuova esperienza di maternità: creare collezioni di abbigliamento con materiali "gentili" sulla pelle dei bambini, piacevoli da indossare per consistenza e look, ma anche sostenibili per il pianeta nel processo produttivo e, non ultimo, semplici e divertenti da acquistare. Non voglio dimenticare di dire che le collezioni, a fronte di un'altissima qualità dei materiali e del design, hanno prezzi allineati a quelli di altre linee di abbigliamento.
CORA vestiti per mamme e bambini in materiali sostenibili
I materiali che CORA Happywear utilizza sono:
cotone biologico, la coltivazione biologica assicura la rotazione delle culture, per non impoverire il terreno, non utilizza pesticidi, fertilizzanti chimici o OGM


tessuti in bamboo e eucalipto: sono piante che crescono molto e in fretta, in ambienti non adatti ad altre coltivazioni, necessitano di poca acqua (quella piovana), le piantagioni hanno un'alta produzione di ossigeno, molto maggiore rispetto al cotone, e un'altissima resa.
6 mq di piantagione di eucalipto producono 10 t-shirt, la stessa estensione in cotone 1 sola t-shirt.
Un ettaro di bambù produce 60 tonnellate di materia prima, il cotone tradizionale 2 tonnellate.
In un anno 1 ettaro di bambù assorbe 62 tonnellate di CO2, mentre una foresta ne assorbe solamente 15.

Il tessuto di eucalipto è prodotto da un'azienda austriaca in un ciclo di produzione senza scarti con un impatto ambientale minimo.


Lana e cotone rigenerati: cosa c'è di più ecologico che il riutilizzo dei materiali?

La produzione è tutta concentrata in Europa e nel mediterraneo (Austria, Italia, Grecia, Tuchia), sempre per abbassare l'impatto ambientale della produzione.
Materiali a basso impatto ambientale, ma i vestiti poi sono comodi? I tessuti sono piacevoli da indossare? Sono caldi? Sono freschi? Sono traspiranti?
Vestiti in bamboo ed eucalipto, una carezza sulla pelle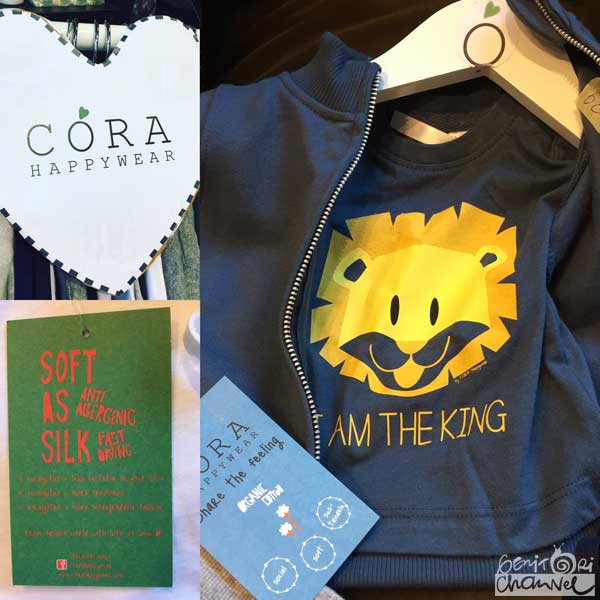 Il claim "share the feeling" di CORA Happywear si applica soprattutto a questi tessuti, perché bamboo ed eucalipto:
hanno una consistenza molto piacevole, paragonabile ad una maglina di viscosa o di seta: soffici e morbidi,


hanno una funzione termica: sono freschi d'estate e caldi d'inverno (come la seta)


sono delicati sulla pelle, antibatterici ed anti-irritazione, grazie al processo produttivo scelto da CORA


sono altamente traspiranti ed assorbenti e sono resistenti come il materiale sintetico, pur essendo completamente biodegradabili nel tempo.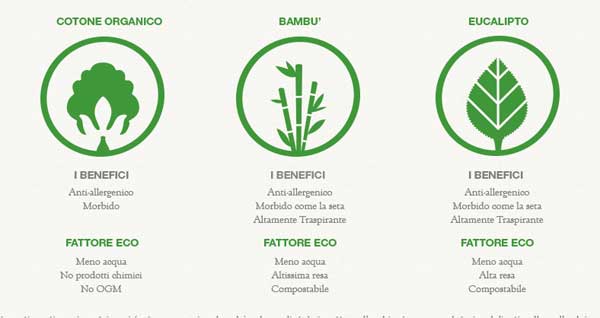 Tra i capi della collezione non si può dimenticare l'intimo in eucalipto: body, canotte, calze, slip che sono davvero un piacere sulla pelle e vanno dalla taglia 0 alla taglia mamme!
La collezione abbinata mamma-bimbi
Una cosa molto divertente della collezione Cora Happywear, è la possibilità di comprare capi abbinati mamma-bimba, mamma-bimbo: motivi, colori e dettagli della collezione bimbi vengono ripresi sulla collezione per le mamme.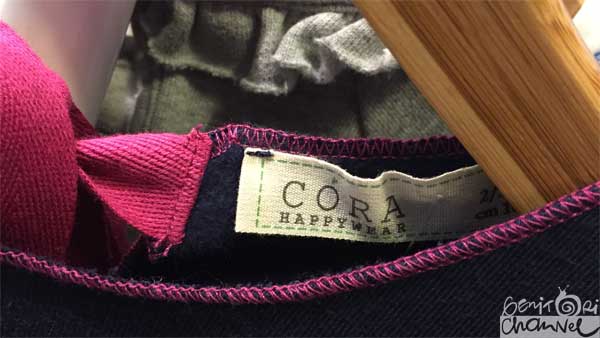 Capi personalizzati Cora Happywear
Un'opportunità molto bella è quella di richiedere la personalizzazione dei capi di abbigliamento, un modo per creare un capo di alta qualità, sostenibile e unico.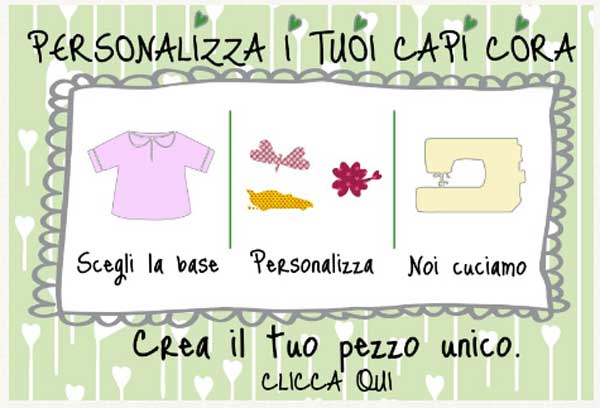 Cora Happywear un modo divertente di acquistare e un'opportunità per le mamme
Dove si acquistano i capi CORA Happywear?
Quando abbiamo i bambini piccoli, lo shopping per negozi può trasformarsi in un incubo:
bambini che si stufano di girare per negozi, che smontano il negozio e combinano guai (a me è capitato che si facessero la pipì addosso in negozio...), fatica per portarli in giro...
Dall'altro lato, un tema che spesso riguarda le neomamme è la solitudine.
Oltre alla possibilità di acquistarli sul sito CORA Happywear, il modello pensato da Elisabeth, quando ha fondato CORA, è stato quello della vendita tramite "life styler party", ovvero: una mamma, con gusto per la moda e il vestire, formata e che conosce la collezione, può diventare life styler CORA, e ospitare o farsi ospitare dalle amiche, per tenere dei piccoli "party" in casa, dove, sorseggiando un tè o un bicchiere di prosecco, le mamme possono guardare la collezione, provare o far provare i capi ai bambini, nel comodo contesto di una casa.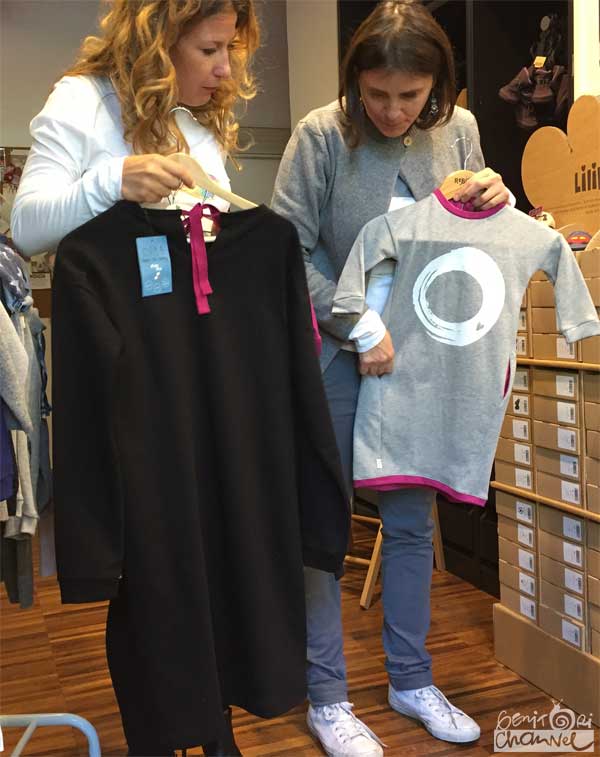 CORA Happywear, un'opportunità per le mamme
Per chi ama i capi CORA e la straordinaria filosofia di benessere che c'è dietro al prodotto, esistono dunque 2 interessanti possibilità:
diventare CORA life styler: un'opportunità di lavoro ritagliata su misura per una mamma che vuole gestire in autonomia e libertà il proprio tempo lavorativo. CORA affianca le candidate life styler con una formazione, fornisce loro tutto il materiale ed i manuali per la gestione ed organizzazione dei party (non ci sono investimenti da fare) e affianca le life styler per avviare al meglio l'attività.


ospitare un CORA party, questa è un'occasione per vedersi con le amiche a casa propria, fare shopping di abbigliamento CORA e assicurarsi uno sconto speciale sui prodotti che si desidera acquistare.
Le etichette in pupù di elefante e scarti di mela
Questa curiosità non posso tacervela, perché è davvero carina: sempre nello spirito dell'impatto minimo, le targhette dei vestiti di CORA sono realizzati in carta ottenuta da "elephant poo" e dagli scarti di lavorazione delle mele! Elisabeth non si ricorda nemmeno di raccontarcelo, tanto per capire quanto la filosofia del sostenibile sia un tema naturale e ovvio per lei.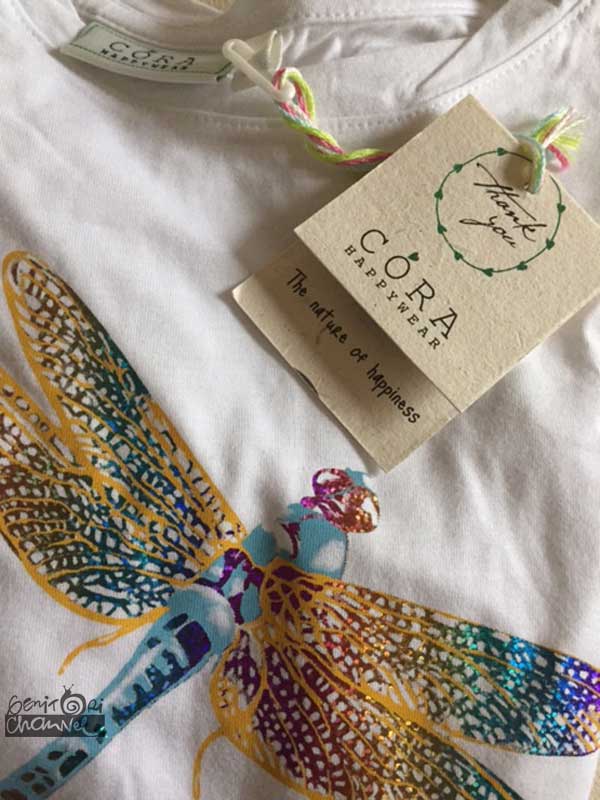 di Barbara Siliquini
In collaborazione con CORA Happywear